WoTW Events – Equipped to Preach the Word – June 16th 10am-3pm 2018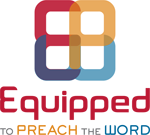 (in association with Word on the Wash)
*This year there will also be prayer before the event from 9am-10am for Word on the Wash 2018
Event Venue
King's Lynn Evangelical Church
Gayton Road, PE30 4EA – parking by Tesco & Library
Day Overview
A day to encourage and equip all who teach or preach the Bible to do so more effectively. This event is in addition to Word on the Wash 2018.
Cost
Suggested donation of £5 per person (on the day)
Next Steps
To register, please go to: https://www.eventbrite.co.uk/e/wotw-events-equipped-to-preach-the-word-tickets-44696676964
or contact Graham Maddison (grahammaddison7@gmail.com) for more details.
Schedule for the day
For Sessions 1 and 2 we will be working through units 1 and 2 of 'Equipped to Preach the Word' by David Jackman. The materials are available fee of charge at:
http://www.proctrust.org.uk/equipped/
It would be helpful if you could bring a printed copy of the Training Manual with you
10:00 – 10:15          Welcome & Introductions
10:15 – 11:15           Session 1 Why does Preaching matter?
11:15 – 11.30           Coffee break
11:30 – 12:30           Session 2 What is Expository Preaching?
12:30 – 1:15            Lunch break
Please bring your own lunch or make use of local shops for food. Tea and coffee will be provided
1:15 – 2:15              Session 3 Working on a Bible passage
Please bring a Bible, some notepaper and a pen.
2:15 – 3:00             Session 4   Feedback & Prayer